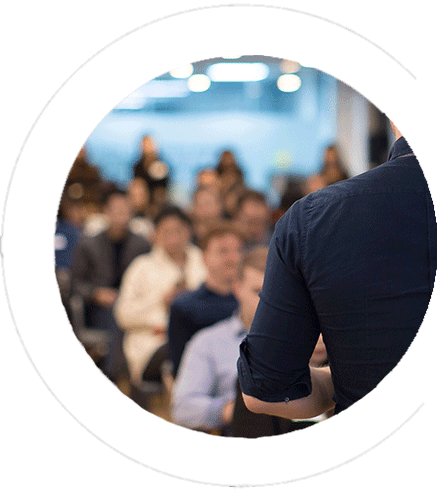 7 real good reasons to hire Greg
Greg's meaningful messages on leadership wisdom are delivered in a down-to-earth, authentic, thought-provoking manner that has universal appeal and resonates with people from every corner of the organization
Greg is highly versatile as he can deliver his powerful messages in a variety of formats form 30 minutes keynotes, to break-out session to multi-day workshops
Greg's presentations are content rich with a fierce focus on practicality … Participants always walk away with strategies and skills they apply the next day
Greg stimulates people intellectually (by helping the audience discover eloquent simplicity on the far-side of complexity) while connecting people at a meaningful way.
Greg is serious about fun! There is scientific evidence that laughing lubricates learning and Greg's presentations are highly memorable
Greg does his homework which allows him to identify with his audiences. Greg spends time to understand the changes and challenges that your organizations and people are facing and customizes his message to optimize relevance
Greg and his fabulous associate are easy to work with and cost conscious. We realize the importance of flexibility both before and during your event and pride ourselves on our adaptability
Greg's ability to energize people make his presentations a great way to open conferences setting a tone, or to close your meeting sending people home on an inspirational high on any of the following themes.
Leading from Everywhere in the Organization (for all employees)
Why the most effective leaders are "Servant leaders". What servant leadership really means. Why it applies to everyone as the single most important competency of 21st century, and how to become a more effective servant leader.
Leading People to Peak Performance (for managers, supervisors)
The old command and control approach to managing people at best achieves "compliance". However, traditional management philosophies do not obtain discretionary effort form people. Participants learn proven principles and practices that motivate people and drive deep levels of engagement unleashing people's commitment and creativity while growing them to their full potential.

Winning & Keeping Customers in the Value Era – (for all customer contact employees)
The research the single most important "value factor" in determining customer loyalty is not place, product or process value! …Study after study confirms it is personal value is the key factors that govern customer retention. Participants learn vital customer leadership relations strategies and techniques that one applied ensure excellence in customer relation and the creation of "raving fans"
Between a Clock and a Hard Place – (for all employees)
Time Management for the 21st Century workplace. Workload pressures of the today's workspace are increasing leaving many people feeling burnt-out, beat-up and overwhelmed. Join Greg, laugh and learn some vital "information age" time management strategies and techniques that will help people to get more done in less time to achieve greater life balance and peace of mind.